Day care for children
Often a child´s first experience of the educational system is in day care facilities for children. Children meet children of the same age, they play together and are encouraged. Language learning and broadening of language skills are also encouraged at an early stage. This is very important for children when they later go to school.
There are various day care facilities in Leverkusen for children between the ages of 0 and 6. Since there is a great demand for these places, interested parents should register their child early on for a place in a facility of their choice via the "Kita-Planer" (nursery planner):
For further information and links about day care facilities for children in Leverkusen, please also visit the website of the City of Leverkusen:
Informationen zur Kindertagesbetreuung
---
School enrolments for new immigrants and refugees:
Children and young people of school age who have newly immigrated into Germany are directed to a school via the Kommunales Integrationszentrum (Municipal Integration Centre). The coordination of school enrolment is carried out in cooperation with the Untere Schulaufsicht (Lower School Authority)/ General Migration. Regardless of their country of origin and their residence status, children and young people who have newly immigrated into Germany can get advice on the school system and receive a school place. You need to make an appointment by telephone.
For an appointment please contact:
For children from the ages of 6 to 10 (elementary school):
Sarah Patten
Phone: 0214 / 406-5225
Email: This email address is being protected from spambots. You need JavaScript enabled to view it.


For children and young people from the ages of 10 to 18 (secondary level I and secondary level II):
Bernd Häck
Phone: 0214/ 406-5226
Email: This email address is being protected from spambots. You need JavaScript enabled to view it.
Stadt Leverkusen
Kommunales Integrationszentrum
Goetheplatz 1 - 4
51379 Leverkusen
---
Flyer KI Integration durch Bildung zum Downlad:

Deutsch (PDF Download)

Englisch (PDF Download)

Französisch (PDF Download)

Arabisch (PDF Download)
---
In elementary schools newly immigrated children in Leverkusen are usually directly integrated into a regular class. At secondary level I the pupils are first taught in Internationale Vorbereitungsklassen (IVK - International Preparation Classes) and Deutschfördergruppen (DFG – German Tutoring Groups). At a Berufskolleg (vocational school) new immigrants of compulsory school age are accepted into a "Fit für mehr" ("Fit for more") class and/or taught in an Internationale Förderklasse (IFK – International Tutoring Class).
In Leverkusen, eight schools with 20 German tutoring classes or International Preparation Classes have been established after secondary level I. These classes (DFG / IVK) are available in all forms of secondary schools – Hauptschule (Lower Secondary School), Realschule (Higher Secondary School), Gymnasium (Grammar School) and Gesamtschule (Comprehensive School). At secondary level II, newly immigrated teenagers and young adults are taught in seven Internationale Förderklassen at three Berufskollegs (as of 20 March 2017).
General information about the structure of the school system in North Rhine-Westphalia: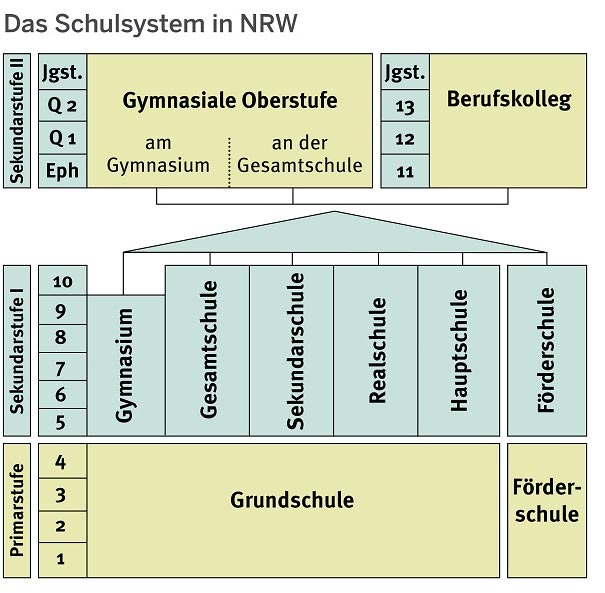 For further information on schools please visit the website of the North Rhine-Westphalian Ministry for Schools:
For further information on schools in Leverkusen please visit:
www.leverkusen.de/kultur-bildung/schule
---
Unterstützung der sprachlichen Bildung in Kita und Schule
Im Rahmen der alltagsintegrierten Sprachbildung in der Kita sowie im Rahmen des Unterrichts in Schule findet eine durchgängige sprachliche Förderung der Kinder und Jugendlichen statt. Darüber hinaus gibt es in vielen Schulen und Kitas Angebote, die die Sprachförderung zusätzlich unterstützen. Dies können Angebote wie z.B. Griffbereit und Rucksack sein oder auch die Förderung von Schüleri/innen durch Ehrenamtliche. Die jeweilige Kita oder die jeweilige Schule gibt Auskunft darüber, ob und welche zusätzliche Sprachförderung angeboten wird.
---
Herkunftssprachlicher Unterricht (HSU)
Der Herkunftssprachenunterricht bietet Schülerinnen und Schülern die Möglichkeit ihre Kenntnisse in der Familien- oder Herkunftssprache zu fördern bzw. zu erweitern.
Das Angebot beinhaltet eine Vielzahl von Sprachen, die jeweils an unterschiedlichen Standorten angeboten werden.
Bei Fragen zum HSU wenden Sie sich bitte an:
Stadt Leverkusen
Fachbereich Schulen
Frau Claudia Wrase
Phone: 0214/ 406-4094
---
Recognition of foreign school leaving qualifications
School leaving qualifications obtained abroad can be recognized in German under certain conditions. For information about the recognition procedure of foreign school leaving certificates and the respective responsibilities, please visit the website of the Ministry for Schools and Education of North Rhine-Westphalia:
and the website of the Bezirksregierung Köln (Cologne District Government):